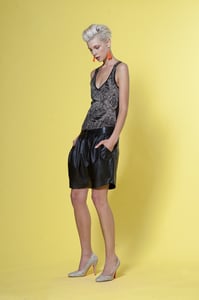 $

149.00
Hand printed (front only) 100% rayon jersey singlet with ALEXI FREEMAN Palm motif. Nylon/lycra mesh at back. Also mesh neckline band and armhole bands. Black with nude print. For best results cold water, hand wash with mild soap (like shampoo). Worn with Pleat Leather Short.
Kate is 5' 10", size 8, and she is wearing a size 10 (hence the loose fit). Therefore upsize if you like a looser fit.
Designed, printed and manufactured in Melbourne, Australia.